One-Day Workshop on Latex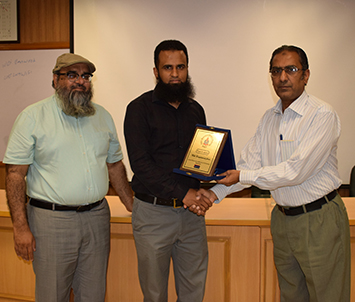 Capital University of Science and Technology hosted "One-Day Workshop on Latex" dated 17th July, 2019 in A-1 from 10:00 AM  to 3:30 PM. Office of Research Innovation and Commercialization (ORIC) organized the particular workshop aiming to equip students and faculty members with the contemporary knowledge about creation of technical and scientific documents using Latex with practical illustrations.
A total of 80 participants attended the workshop including MS & PhD students and faculty members from CUST, FAST-NUCES, IST, FJWU etc. The resource person for the particular workshop was Dr. Ali Arshad, Assistant Professor, COMSATS University Islamabad. The respected instructor was acknowledged with university shield by Dr. Javed Hyder, Professor ME Department. Dean Research & Innovation was also present at the auspicious occasion.
LaTeX is a typesetting system suitable for producing scientific and mathematical documents which enables authors to typeset and print their work at the highest typographical quality. The first session covered the basic topics about Latex Overview & Installation, Document Write up (Sections and paragraphs), Packages Installation, Figures & Tables Insertion, Mathematical Operations, Table of Contents and Bibliography. The second session encompassed the practical illustrations of Latex about creating structured documents like research thesis, research paper, project presentation etc.