SEMINAR ON "THE IMPACT OF HUMAN ACTIVITIES ON CLIMATE CHANGE AND ENDANGERMENT OF SPECIES"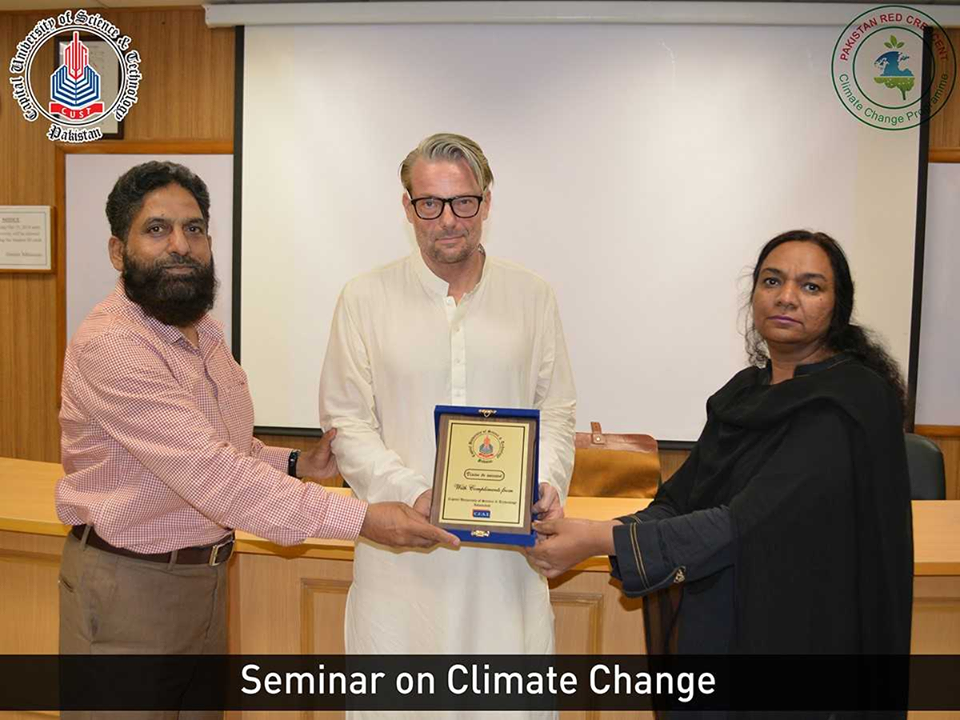 A seminar on "The Impact of Human Activities on Climate Change & Endangerment of Species" was organized by the Department of Biosciences, Faculty of Health and Life Sciences Capital University of Science and Technology Islamabad, on October 17, 2018 at 12:30 P.M in Auditorium 1 under the supervision of Dr. Sahar Fazal, Head of Department of Biosciences.
The program started with the recitation of Holy Quran followed by an introduction of the guest speaker.The guest speaker was Mr. Hans J. Hausmann who is an advisor from German Red Cross at Climate Change Adaptations department in Pakistan Red Crescent Society. He holds Bachelor's degree in Forestry and Maters degree in Rural Resource Management, both from UK. He has more than 20 years of experience regarding Climate Change Issues in Asia, Middle East and Africa.
The Guest Speaker enlightened the students regarding the severity of climate change issues such as, global warming, water scarcity, plastic pollution and threats to flora and fauna and linked it all as the consequences of human activities. He motivated students to take steps against the exploitation of nature and start this movement from their own selves. He guided them to stop strangling the natural beauty for human benefits and becoming a part of something bigger than themselves. One of his best quotes was about plastic pollution that, "When you say you are throwing it out, remember there is NO OUT".
Though his major focus among these issues was the wild-life endangerment as the wild-life is being affected drastically day by day, due to human activities such as, deforestation, pollution, and overpopulation. He highlighted the endangered species of Pakistan such as, Markhor, Indus dolphin, and various others and described the kinds of human activities which pose a threat to their existence. Moreover, the speaker guided all the students about the role of youth awareness in Pakistan to help solve these issues and suggested various solutions to cope-up with the challenges faced in nature conservation.
This seminar was a great source of information for the students and motivated them to become nature friendly as the Earth is our home and we are the ones who have the responsibility to save it. The souvenir was presented to the guest speaker by the HOD of Biosciences, Dr.Sahar Fazal, HoD Biosciences department and Dr. Shaukat Iqbal, Director VIS and hi-tea was served to the guest speaker and the faculty members in the staff room.