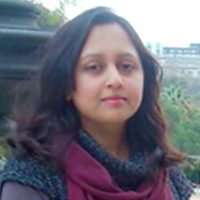 Dr. Erum Dilshad (PhD QAU, Islamabad)
ASSISTANT PROFESSOR
PROFILE SUMMARY
My research is focused on production of transgenics of both medicinal and edible crops for enhancement of secondary metabolites, tolerance against biotic and abiotic stress along with their phytochemical analysis. It also involves establishing plant tissue culture, biological evaluation of synthetic and natural compounds and cancer cell line studies.
QUALIFICATION
Ph.D
Biochemistry/Plant Biotechnology
Quaid-i-Azam University Islamabad
2016
M.phil
Biochemistry/Molecular Biology
Quaid-i-Azam University Islamabad
2010
M.Sc
Biochemistry
Quaid-i-Azam University Islamabad
2008
TEACHING EXPERIENCE
Assistant Professor Biosciences
Capital University of Science and Technology (CUST), Islamabad
Since 2016
Visiting Faculty (Biotechnology) 2016 – 2017
Allama Iqbal Open University, Islamabad
2016 – 2017
Visiting faculty (Biochemistry)
CMT, PIMS, Islamabad
2009 – 2010
INDUSTRIAL EXPERIENCE
Research Associate
Quaid-i-Azam University Islamabad
2015 – 2016
Visiting Researcher
University of Barcelona, Spain
2015 – 2015
Laboratory Scientist
Shifa International Hospital Islamabad
2010 – 2014
MANAGEMENT EXPERIENCE
Patron
GENIX
Since – 2018
Member
Discipline Committee
Since – 2018
Coordinator
FYP
2017 – 2018
Coordinator
MS Thesis
Since – 2017
Coordinator
Girls' Sports activities
Since – 2018
Member
Departmental Program Team for BS Biosciences, Biotechnology, Microbiology and Bioinformatics
Since – 2017
HONORS & AWARDS
1.
Productive Scientist of Pakistan (2017) by PCST
2.
Productive Scientist of Pakistan (2016) by PCST
3.
HEC Interim placement of fresh PhDs (2016-2017)
4.
HEC Talent Farming Scholarship during B.Sc
5.
HEC Talent Farming Scholarship during M.Sc
6.
Merit Based Scholarship from Quaid-i-Azam University Islamabad During M.Phil
7.
HEC Indigenous Fellowship during Ph.D
8.
HEC International Research Support Initiative Programe Fellowship during Ph.D
RESEARCH AREAS / INTERESTS
1. Cloning;
2. Plant Biotechnology;
3. Phytochemistry;
4. DNA Barcoding;
5. Drug Discovery;
6. Bioassays;
7. Cancer cell line studies;
8. Nanobiotechnology;
RESEARCH SUPERVISION
1.
MS
Biological evaluation of Silver Nanoparticles of Mentha Asiatica
2.
MS
Chemical Synthesis of Diversified Silver Nanoparticles along with Characterization and Biological Evaluation
3.
MS
Risk Factors Associated with Alteration of Hematological and Biochemical Parameters in G6PD Deficiency
4.
MS
Green Synthesis and Characterization of Silver Nanoparticles Using Leaf Extract of Artemisia Carvifolia and their Anti-Bacterial, Anti-Fungal, Anti-Oxidant, Cytotoxic Activities.
5.
MS
Optimization of Conditions for Micropropogation of Spinach (Spinacia oleracea).
BOOKS AUTHORED / AUTHORED
Erum Dilshad, Naqoosh Zahra, Zainab Nooruddin, Arshia Amin Butt, and Syeda Marriam Bakhtiar. (2019) "Single-Cell Editing: The CRISPR/Cas9 and Applications." In Single-Cell Omics, pp. 397-415. Academic Press
S M Bakhtiar, Butt HA, Zeb S, Quddusi DM, Gul S, Dilshad E ( 2017). 3D Printing Technologies and Their Applications in Biomedical Sciences. Book Omics Technologies and Bioengineering. ISBN 978-0-1280-4659-3.
JOURNAL PUBLICATIONS
1.
Iqra Younus, Hammad Ismail, Chahat Batool Rizvi, Erum Dilshad, Kiran Saba, Bushra Mirza, Mohammad Tahir Waheed. J Pharm Pharmacogn 7 (5) (2019): 343-355.
2.
Erum Dilshad, Syeda Sojla Tazeem, Zainab Bashir, Ammar Hamza Iqbal, Adeel Saddique Khokhar, Naqoosh Zahra, Mubarak Ali Khan, Hammad Ismail, Maria Shabbir. "Silver nanoparticles of Aloe vera gel as strong therapeutic candidates." Int. J. Biosci (2019). 15(1), 360-373.
3.
Kazmi, Abeer, Mubarak Ali Khan, Huma Ali, Erum Dilshad. "Biotechnological approaches for production of bioactive secondary metabolites in Nigella sativa: an up-to-date review." International Journal of Secondary Metabolite 6, no. 2 (2019): 172-195.
4.
Ali, Huma, Mubarak Ali Khan, Waqas Khan Kayani, Erum Dilshad, Rehana Rani, and Raham Sher Khan. "Production of biomass and medicinal metabolites through adventitious roots in Ajuga bracteosa under different spectral lights." Journal of Photochemistry and Photobiology B: Biology 193 (2019): 109-117.
5.
Zafar, Sara, Erum Dilshad, Hammad Ismail, Chahat Batool Rizvi, and Bushra Mirza. "Rol genes enhance content of artemisinin and other secondary metabolites in Shennong hybrid of Artemisia annua." Chinese Herbal Medicines (2019).
6.
Rehman, Samiya, Ken Keefover-Ring, Ihsan ul Haq, Erum Dilshad, Mohammad Imran Khan, Nosheen Akhtar, and Bushra Mirza. "Drier Climatic Conditions Increase Withanolide Content of Withania coagulans Enhancing Its Inhibitory Potential Against Human Prostate Cancer Cells." Applied biochemistry and biotechnology (2018): 1-21.
7.
Munir, Anum, Shahid Hussain, and Erum Dilshad. "Silver nanoparticles conjugated with Neurotrophin 3 upregulate myelin gene transcription pathway." Journal of theoretical biology 459 (2018): 111-118.
8.
Larik, Fayaz Ali, Aamer Saeed, Muahmmad Faisal, Pervaiz Ali Channar, Syed Sikandar Azam, Hammad Ismail, Erum Dilshad, and Bushra Mirza. "Synthesis, molecular docking and comparative efficacy of various alkyl/aryl thioureas as antibacterial, antifungal and α-amylase inhibitors." Computational biology and chemistry 77 (2018): 193-198.
9.
Waqas khan kiani, Bushra Hafeez Kiani, Erum Dilshad, Bushra Mirza, "Biotechnological approaches for artemisinin production in Artemisia", World Journal of Microbiology and Biotechnology, No: 4, 2018
10.
Hammad Ismail, Ammara Rasheed, Ihsan ul Haq, Laila Jafri, Nazif Ullah, Erum Dilshad, Moniba Sajid, Bushra Mirza, "Five indigenous plants of Pakistan with anti-nociceptive, antiinflammatory, anti-depressant and anti-coagulant properties in Sprague Dawley rats", Evidence based complementary and alternative medicine, 2017
11.
Aamer Saeed, Pervaiz Ali Channar, Fayaz Ali Larik, Farukh Jabeen, Urooj Muqadar, Shomaila Saeed, Ulrich Flörke, Hammad Ismail, Erum Dilshad, Bushra Mirza , "Design, Synthesis, Molecular docking studies of organotin-drug derivatives as multi-target agents against antibacterial, antifungal, a-amylase, a-glucosidase and buytyrlcholinesterase", Inorganica Chimica Acta, Pages: 204-213, 2017
12.
Ismail, Hammad, Erum Dilshad, Mohammad Tahir Waheed, and Bushra Mirza, "Transformation of Lettuce with rol ABC Genes: Extracts Show Enhanced Antioxidant, Analgesic, Anti-Inflammatory, Antidepressant, and Anticoagulant Activities in Rats", Applied Biochemistry and Biotechnology (Springer), Pages: 1-20, 2017
13.
Fayaz Ali Larik, Aamer Saeed, Pervaiz Ali Channar, Hammad Ismail, Erum Dilshad, Bushra Mirza, "New 1-octanoyl-3-aryl thiourea derivatives: Solvent-free synthesis, characterization and multi-target biological activities", Bangladesh Journal of Pharmacology, Pages: 894-902, 2016
14.
Kayani, Waqas Khan, Erum Dilshad, Tanveer Ahmed, Hammad Ismail, and Bushra Mirza, "Evaluation of Ajuga bracteosa for antioxidant, anti-inflammatory, analgesic, antidepressant and anticoagulant activities", BMC Complementary and Alternative Medicine (Springer), No: 1, Pages: 375, 2016
15.
Ismail, Hammad, Erum Dilshad, Mohammad Tahir Waheed, Moniba Sajid, Waqas Khan Kayani, and Bushra Mirza, "Transformation of Lactuca sativa L. with rol C gene results in increased antioxidant potential and enhanced analgesic, anti-inflammatory and antidepressant activities in vivo", 3 Biotech (Springer), No: 2, Pages: 215, 2016
16.
Erum Dilshad, Sara zafar, Hammad Ismail, Mohammad Tahir Waheed, Rosa Maria Cusido, Javier Palazon, Bushra Mirza, "Effect of Rol Genes on Polyphenols Biosynthesis in Artemisia annua and Their Effect on Antioxidant and Cytotoxic Potential of the Plant", Appl Biochem Biotechnol, No: 8, Pages: 1456-1458, 2016
17.
Erum Dilshad, Hammad Ismail, Ihsan-ul-Haq, Rosa Maria Cusido, Javier Palazon, Karla Ramirez Estrada, Bushra Mirza, "Rol genes enhance the biosynthesis of antioxidants in A. carvifolia Buch", BMC Plant Biology, 2016
18.
Erum Dilshad, Rosa Maria Cusido, Javier Palazon, Karla Ramirez Estrada, Mercedes Bonfill, Bushra Mirza, "Enhanced artemisinin yield by expression of rol genes in Artemisia annua", Malaria Journal, Pages: 424, 2015
19.
Erum Dilshad, Rosa Maria Cusido, Karla Ramirez Estrada, Mercedes Bonfill, Bushra Mirza , "Genetic Transformation of Artemisia carvifolia Buch with rol Genes Enhances Artemisinin Accumulation", Plos One, No: 10, Pages: e0140266., 2015
20.
Erum Dilshad, Bushra Mirza1, Muhammad Shabbir, Zia-ul- Haq, Zareen Akhter, "Biological Evaluation of Aza-Heterocyclic Derivatives and their Intermediates", World J Pharmaceutical Sciences, No: 6, Pages: 2111-2126, 2014
21.
Ghulam Murtaza, Muhammad Khawar Rauf, Amin Badshah, Masahiro Ebihara, Muhammad Said, Marcel Gielen, Dick de Vos, Erum Dilshad, Bushra Mirza , "Synthesis, structural characterization and in vitro biological screening of some homoleptic copper(II) complexes with substituted guanidines", European J Chemistry, Pages: 26-35, 2012
CONFERENCE PUBLICATIONS
1.
Syeda Sojla, Zainab Bashir, Erum Dilshad. "Green Synthesis and Characterization of Silver Nanoparticles Using Alo vera Plant Gel and Their Biological Evaluation".1st National Conference on Medicinal Plant Research. Karakoram International University Gilgit Baltistan. 29-31 Aug 2018.
2.
ISESCO WINS 2016 conference Quaid-i-Azam University Islamabad March 2016. Genetic transformation of Artemisia carvifolia Buch with rol genes for enhancement of secondary metabolites. Poster Presentation.
3.
4th International Conference on Biological and Computer Science. December 14, 2016. Genetic transformation of Lycopersicon esculentum Mill. using an abiotic stress tolerance gene. Poster presentation