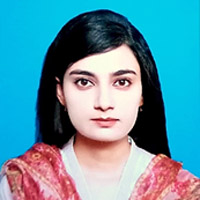 Ms. Taliha Ahmed
Associate Lecturer
PROFILE SUMMARY
Ms. Taliha Ahmed holds a master's degree in microbiology and immunology from COMSATS University Islamabad and has a specialty in poultry-borne human gastrointestinal infections. Her prior bachelor's degree in Biosciences, with a focus on molecular plant pathogenicity, was also from COMSATS University. Her areas of research interest are the human gut microbiome and its evolution, human gastrointestinal infections, and zoonotic pathogen transmission risk analysis. She also collaborates on numerous research initiatives with a few international research groups. Since September 2022, she has worked for CUST and has been actively involved in academia.
QUALIFICATION
MS
Microbiology and Immunology
COMSATS University Islamabad
2020
BS
Biosciences
COMSATS University Islamabad
2018
TEACHING EXPERIENCE
Associate Lecturer
Capital University of Science and Technology (CUST), Islamabad
Since – 2022
Research Assistant
COMSATS University Islamabad
2021
Science Teacher
Guidance Montessori and High School RWP
2021
Science Tutor
Your Cloud Campus-YCS RWP
2020 – 2021
TEACHING EXPERIENCE
Medical Laboratory Intern
Pathology Department Fauji Foundation Hospital RWP
2018
JOURNAL PUBLICATIONS
1.
Pakistan's Backyard Poultry Farming Initiative: Impact Analysis from a Public Health Perspective [2021] Ahmed T, Ameer HA, Javed S. Pakistan's backyard poultry farming initiative: impact analysis from a public health perspective. Trop Anim Health Prod. 2021 Mar 17;53(2):210. DOI: 10.1007/s11250-021-02659-6. PMID: 33733340.