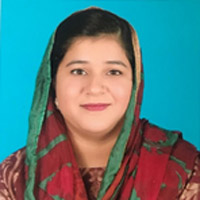 Ms. Fareeha Hasan
Associate Lecturer
PROFILE SUMMARY
Ms. Fareeha Hasan completed her M.Phil in Pharmaceutical Chemistry from the University College of Pharmacy, Punjab University in 2020. Her research interests are synthetic chemistry, medicinal plants and their bioassay. She has professional experience in different institutes. She is a focused, highly motivated and deadline-committed enthusiastic individual with strong interpersonal skills.
QUALIFICATION
M.Phil.
Pharmaceutical Chemistry
University College of Pharmacy, Punjab University, Lahore, Pakistan
2020
Pharm.D.
Pharmaceutical Sciences
University College of Pharmacy, Punjab University, Lahore, Pakistan
2016

TEACHING EXPERIENCE
Associate Lecturer
Capital University of Science and Technology (CUST), Islamabad
Since – September 2022
Lecturer
Yusra Institute of Pharmaceutical Sciences
One Month
Lecturer
Akhtar Saeed College of Pharmacy, Islamabad
Aug 2021 – Dec 2021

PROFESSIONAL EXPERIENCE
Pharmacist
Syed Pharma +
June 2018 – July 2019
Internee Pharmacist
Children hospital and Institute of Child Health
October 2016 – December 2016

MEMBERSHIP OF PROFESSIONAL BODIES
Member
Punjab Pharmacy Council, Lahore, Pakistan

RESEARCH AREAS/ INTERESTS

Drug Discovery
Pharmaceutical Sciences
Novel Drug Delivery Systems

JOURNAL PUBLICATIONS
1.
M. Khan, Zafaruddin, S. Iqbal, F. Hasan, M. Mastoor, "Association of Body Mass Index with Orexin-A Levels in Reproductive Age Group Women". Pakistan Journal of Medical and Health Sciences, vol.16, no.6, 2022.