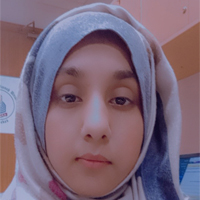 Ms. Rida Haya
Associate Lecturer
PROFILE SUMMARY
Rida Haya completed the MS degree in Computer Science from the University of Haripur, Pakistan, in 2021, and joined academia where she worked as Lecturer and Associate Lecturer. Rida Haya's research interests are in Information-Centric Networking and IoT.
QUALIFICATION
MS
Computer Science
AUST (Abbottabad university of science and technology, Abbottabad, Pakistan)
2021
BS
Microelectronics
University of Haripur, Haripur, Pakistan
2017
TEACHING EXPERIENCE
Associate lecturer
Capital university of science and technology CUST, Islamabad
Since – 2022
Lecturer
University of Sargodha, Sargodha, Punjab
2021 – 2022
HONORS & AWARDS
1.
English proficiency certificate From Govt Post Graduate College, Mandian, Abbottabad
2.
Merit Laptop, University of Haripur, Haripur
RESEARCH AREAS / INTERESTS
1. Information-Centric Networking
2. Internet of Things
CONFERENCE PUBLICATIONS
1.
Haya, Rida, Ikram Ud Din, and Suhaidi Hassan. "ICN-based IoT caching using Luby Algorithm.", 2021.