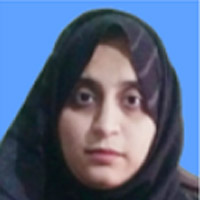 Ms. Farwa Zaid Ali
Associate Lecturer
PROFILE SUMMARY
Ms. Zaid completed MS (Pharmacognosy) from COMSATS University Islamabad Abbottabad Campus in 2022. Her research interests are Phytochemical Profiling and Wound Healing Activity of Heliotrpium strigosum Using Burn Mice Model. She has two years teaching experience. She is focused, highly-motivated and deadline-committed enthusiastic individual with strong interpersonal skills.
QUALIFICATION
MS
Pharmacognosy
COMSATS University Islamabad Abbottabad Campus
2022
Pharm.D
Pharmaceutical Sciences
Riphah International University, Islamabad, Pakistan
2017
TEACHING EXPERIENCE
Associate Lecturer
Capital University of Science and Technology (CUST), Islamabad
Since – 2023
Lecturer
Government Girls Higher Secondary School Paharpur Dera Ismail Khan, Pakistan
Dec 2017 – Dec 2019
PROFESSIONAL EXPERIENCE
Summer Intern
Shifa International Hospital, Islamabad Pakistan
August – September 2017
Pharmacist Trainee
D. Watson Pharmacies
June – August 2017
Apprentice Pharmacist
Wilson′s Pharmaceuticals, Islamabad, Pakistan
July – August 2016
MEMBERSHIP OF PROFESSIONAL BODIES
Member
Punjab Pharmacy Council, Lahore, Pakistan
HONORS & AWARDS
1.
Scholarship holder in MS (COMSATS University Islamabad, Abbottabad Campus)
2.
Bright-Star of the college (FEF Girls College, Paharpur, Dera Ismail Khan)
3.
5 most Accomplished Students Award (Shawn Model High School and College Paharpur Dera Ismail Khan)
RESEARCH AREAS/ INTERESTS
Phytochemical profiling
Drug extraction and identification of chemical constituents
Burn wound healing.