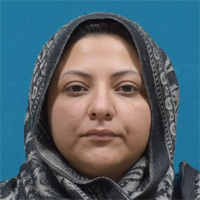 PROFILE SUMMARY
Ms. Yafra Khan completed the MSc degree in Computer Science (By Research) in 2018 and joined academia in 2020. She worked as a visiting lecturer from 2020 to 2021 at Foundation University Rawalpindi Campus and now working in CUST as a permanent lecturer. Her research interests include Machine Learning, Artificial Intelligence, Data Science, and Predictive Analytics. She has also worked as a Software Engineer in F3 Technologies and cloud technologies instructor remotely. She also has conference and journal publications.
QUALIFICATION
MSc
Computer Science
Universiti Malaysia Sarawak, Malaysia
2018
BS
Software Engineering
Foundation University Rawalpindi Campus, Pakistan
2013
TEACHING EXPERIENCE
Lecturer
Capital University of Science and Technology (CUST), Islamabad
Since – 2022
Visiting Lecturer
Foundation University Rawalpindi Campus
2020 – 2021
HONORS & AWARDS
1.
Winner FUI inter-university table tennis championship(doubles), Islamabad.
2.
Runner-up EME Olympiad table tennis (doubles), 2013

RESEARCH AREAS / INTERESTS

1. Machine Learning
2. Artificial Intelligence
3. Data Science
4. Water Quality Analytics

JOURNAL PUBLICATIONS
1.
Khan, Y. and Chai, S.S., 2017. Ensemble of ANN and ANFIS for water quality prediction and analysis-a data driven approach. Journal of Telecommunication, Electronic and Computer Engineering (JTEC), 9(2-9), pp.117-122.

CONFERENCE PUBLICATIONS
1.
Khan, Yafra, and Chai Soo See. "Predicting and analyzing water quality using Machine Learning: a comprehensive model." In 2016 IEEE Long Island Systems, Applications and Technology Conference (LISAT), pp. 1-6. IEEE, 2016.