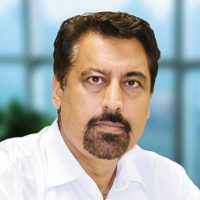 Dr. Ansir A. Rajput (PhD MAJU, Islamabad)
ASSOCIATE PROFESSOR
PROFILE SUMMARY
Dr. Rajput holds Ph.D. – Entrepreneurship, MBA – Entrepreneurship & Marketing (Babson College, USA: No. 1 in MBA Entrepreneurship) and BSEE, SUNY at Buffalo, USA. Dr. Rajput was the founding entrepreneur of Personalized Gifts, USA (1993-1997). Upon completing his MBA, he relocated to Pakistan and joined System Research Private Limited, Islamabad as Director Marketing (1997-1998). He switched to academia and became Program Coordinator, MBA Programs, Hamdard University. (1998-1999). Later on, he joined Mohammad Ali Jinnah University-MAJU as Program Coordinator, MBA Programs and was promoted as Program Manager and Associate Professor (1999-2007) and later he headed the department of Management and Social Sciences (2007-2010). Currently, he is Associated Dean, Corporate Linkages, Head, Entrepreneurship Development Center at Capital University of Science and Technology.

Dr. Rajput has 20+ years of teaching & training, coaching & mentoring, consulting & venture creation, branding and communications and management and strategic Planning. He is renowned professor, trainer and consultant in the areas of: Entrepreneurship, Social and SME Planning and Development. International Business, Strategic Marketing, Branding and Communications and Planning. Some of Dr. Rajput Clients are: ACCA-Pakistan, British Council, FAO, IRM, ILO, Habib Bank, HEC, HRDN, Muslim Aid, National Bank, Pakistan Post, PHDEB, RCCI, SMEDA, SARRC HRD, MOST, Pakistan, UNICEF and World Bank. Dr. Rajput has worked in Afghanistan, Bangladesh, Canada, Italy, India, Northern Cyprus, Netherlands, Turkey, Sri Lanka, UK and USA.

Dr. Rajput is a serial Entrepreneur as he founded 8 startups and assisted 100+ ventures. Dr. Rajput has published 2 books, 15+ research papers and 20+ newspapers and magazines articles. Dr. Rajput is currently developing an indigenous entrepreneurial ecosystem model for Pakistan
QUALIFICATION
PhD
Management and Social Sciences
Mohammad Ali Jinnah University, Islamabad
2011
MBA
Entrepreneurship and Marketing
Babson College, Boston, MA F.W. Olin Graduate Business School USA
1997
TEACHING EXPERIENCE
Associate Dean
Mohammad Ali Jinnah University, Islamabad
2004 – 2015
INDUSTRIAL EXPERIENCE
Manager, Evening Business Programs
Hamdard University, Islamabad
1998 – 1999
Director, Marketing and Business Development
Systems Research (Pvt.) Limited, Rawalpindi
1997 – 1998
Chief Executive Officer
Personalized Gifts USA
1993 – 1997
MEMBERSHIP OF PROFESSIONAL BODIES
Member
State Alumni, United States of America USA
Member
Review Board, Journal of Small Business & Entrepreneurship Canada
Member
South Asian Forum of Entrepreneurship Education and Research India
Member
Indus Entrepreneur Pakistan
Member
Academy of Entrepreneurship Journal-Allied Academies USA
Member
Global Entrepreneurship Monitor USA
Member
International Council for Small Businesses USA
Life Member
Business Education Accreditation Council, HEC
Member
Global Entrepreneurship Week, USA
Guest Editor
Special Edition, South Asian journal of Global Research USA
Member
Human Resource Development Network
Chair
ICETM 2012 ( International Conference on Management)
Member
Pakistan Human Capital Forum, Islamabad
Member
Pakistan Technology Board, MOST, GOP
Associate
SARRC Chamber of Commerce and Industries, Islamabad
Associate
Islamabad Chamber of Commerce and Industries, Islamabad
Associate
Rawalpindi Chamber of Commerce & Industries, Rawalpindi
Advisor
Selection Board, International Islamic University, Islamabad
HONORS & AWARDS
1.
An Authority of Entrepreneurship and Enterprise Development Programs
2.
Consultant and trainer with multicultural experiences and excellent interpersonal skills
3.
Proven corporate leader, consultant and trainer
4.
Pioneer of eCommerce, eBusiness, Entrepreneurship Education in Pakistan
5.
Graduate of Babson College, USA (ranked # 1 in MBA Entrepreneurship)
5.
First Ph.D. in SME Entrepreneurship in Pakistan
RESEARCH AREAS / INTERESTS
1. Entrepreneurship;
2. Venture Creation;
3. Entrepreneurial Marketing;
4. Digital Marketing.
RESEARCH SUPERVISION
1.
PhD
Impact of Perceived External and Internal Corporate Social Responsibility on Organizational Citizenship Behavior: A Moderated Mediated Model
2.
MS
Impact of big data analytics on firm performance with mediating role of innovation capability and decision making.
3.
MS
Multidimensional effect of innovation capability on firm performance with meditating role of technological and non technological innovation.
BOOKS AUTHORED / AUTHORED
Venture Creation: Business Success Secrets Revealed
Yes I Can Sell
JOURNAL PUBLICATIONS
1.
Iffat Rasool , Ansir Rajput, "The Impact of Perceived Internal Corporate Social Responsibility on Organizational Citizenship Behavior: A Micro-Perspective Analysis, " Business & Economic Review: Vol. 9, No.1 2017 pp. 181-202, 2017
2.
Zohaib Hassan, Dr Muhammad Arif Khattak, Zafar Saleem and Ansar Ali Rajpu, "the Mediating Role of Employee Engagement between the Relationship of Distributive Justice & Org. Citizenship Behavior: Empirical Evidence from Aviation Sector of Pakistan," IJMS, Vol. 2, No. 11, 2014, 494-500, 2014
3.
Ansar Ali Rajput and Sabir Hussain Kalhoro, "The Impact of Macro Factors Entrepreneur, Innovation & Opportunity on Entrepreneurial Success of SMES," Middle-East JSR, 20 (2): 149-161, 2014
4.
Sameen Jawaid, Dr. Ansir Ali Rajput and M. M. Raza Naqvi, "Impact of Celebrity Endorsement on Teen ager's Impulsive Buying Behavior, IJCRB, Vol. 4, No. 10, 2013
5.
Dr. Ansir A Rajput, Sabir Hussain Kalhor and raja wasif, "Impact of Price & Quality on Consumer Buying Behavior: Evidence from Pakistan, IJCRB, Vol. 4, No. 4, 2012
6.
Shahid Rasool, Asif Ayub Kiyani, Mohammad Junaid Aslam, Muhammad Umair Akram and Dr. Ansir Ali Rajput, "Impact of Organizational Culture on Employee's Career Salience: An Empirical Study of Banking Sector in Islamabad, Pakistan," Int. JB&SS, Vol. 3 No. 7, 2011
7.
Ansir Ali Rajput and Murad Ali, "A preliminary investigation of entrepreneurial women in Potohar region of Pakistan", Journal of Chinese Entrepreneurship, Vol. 1 Issue: 3, pp.193-208, Emerald Group, 2008
8.
Ansir A rajput, " National Survey: An examination of Entrepreneurship centers in Pakistan," Int. JE, Academy of Entrepreneurship. Vol. 12, 2008