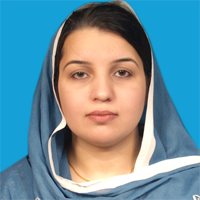 Dr. Ishrat Yousaf (PhD UoP, Peshawar)
Assistant Professor
PROFILE SUMMARY
Dr. Ishrat completed her PhD degree in Clinical Psychology from the Department of Psychology, University of Peshawar, in 2015, and joined academia where she worked at different Universities as Assistant Professor in Psychology. Dr. Ishrat's research interests are in the areas of mental health, Psychological assessment, developmental psychology, and Clinical and health psychology. She has supervised psychology undergraduate students in their research projects. She authored two research papers in HEC recognized journals, and has strong interest in taking national and international research projects.
QUALIFICATION
PhD
Clinical Psychology
University of Peshawar, Pakistan
2015
MSc
Clinical Psychology
University of Peshawar, Pakistan
2003
TEACHING EXPERIENCE
Assistant Professor
Capital University of Science and Technology (CUST), Islamabad
Since – 2019
Assistant Professor
Foundation University Rawalpindi Campus, Islamabad
2019 – 2019
Assistant Professor
Iqra University Islamabad
2016 – 2018
Assistant Professor
Fatima Jinnah Women University, Rawalpindi
2015 – 2016

HONORS & AWARDS
1.
Developing Country Scholarship Awarded by "International Council of Psychologists at 74th Annual Conference Yokohama Japan in 2016.
2.
Awarded for the Research Project Under Start-Up-Research Grant Program by Higher Education Commission, Pakistan in March, 2016.
3.
Award for PhD Studies under "PhD Fellowship for 5000 Scholars" (Indigenous) Scheme, Batch-VI, 2010, Awarded by Higher Education Commission Pakistan.

RESEARCH AREAS / INTERESTS

Clinical & Health Psychology;
Developmental Psychology;
Psychological Assessment;
Mental Health.

JOURNAL PUBLICATIONS
1.
Rizwan, I & Irshad, E. (2015). Suicide Risk among individuals with HIV/AIDS. Bahria journal of professional psychology, Bahria University,Vol. 14, No. 1: 1-21.
2.
Rizwan, I & Irshad, E. (2012). Post-traumatic stress disorders and depression among patients suffering from HIV/AIDS. Journal the Dialogue, Vol. VII. No. 4, 393- 414.

CONFERENCE PUBLICATIONS
1.
Yousaf, I. (2017). Negative Self-beliefs as a barrier towards Career Aspirations, in 2nd Home Economics Conference "HOME ECONOMICS: EXPANDING NEW HORIZON (22-25 May, 2017).
2.
Rizwan, I. (2016). Anxiety and social functioning among individuals with HIV and AIDS. 'Annual Scientific Conference & Board Meetings'.74th ICP, Inc. Conference, Yokohama Japan.