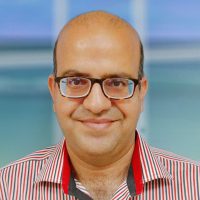 Mr. Nasir Rasool
ASSISTANT PROFESSOR
PROFILE SUMMARY
Mr. Nasir Rasool has 20 an experience of over 20 years. That includes teaching experience 17 years and corporate experience of 3 years. He has supervised a large number of research studies during his teaching career. His corporate experience includes a solid training and consultancy exposure in Pakistan as well as in Afghanistan and Sri Lanka. He has worked with national and international social sector organizations and delivered trainings in all areas of management. He has also worked with different organizations as a consultant and helped them in developing their financial systems.
QUALIFICATION
MS
Finance
MAJU Islamabad
2009
MBA
IT
Mohammad Ali Jinnah University
2000
TEACHING EXPERIENCE
Assistant Professor
Capital University of Science and Technology (CUST), Islamabad
Since – 2015
Lecturer
Mohammad Ali Jinnah University, Islamabad
2007 – 2015
RESEARCH AREAS / INTERESTS1. Corporate Finance;
2. Investment Analysis;
3. Behavioral Finance.
INDUSTRIAL EXPERIENCE
Senior Trainer and Consultatnt
Civil Society Human and Institutional Development Program (CHIP)
2006 – 2007
Sales and Customer Services Representative
Mobilink
2000 – 2001
RESEARCH SUPERVISION
1.
MS
Candlestick Technical Trading Strategies: Can they Create Value for Investors
2.
MS
Stock Market Development and Economic Growth: Evidence from Asian Markets
3.
MS
Determinants of Economic Growth: An Empirical Analysis of South Asian Economy
4.
MS
Analyzing the Impact of Globalization on Economic Growth
5.
MS
Impact of Investor's Sentiment on Stock Returns: Empirical Evidence from Pakistan
6.
MS
Volatility Transmission among Macroeconomic Variables, Gold Return, Stock Return, Oil Return and Exchange Rate Return
7.
MS
Weak Form Efficiency in Currency Markets, Evidence from Major Trading Partners of Pakistan
8.
MS
External Financing, Value/Growth and Stock Returns: Three Factor Model Study in Pakistani Equity Markets
9.
MS
Effect of Tax Cut and Government Spending Deficit on Private Investment and Consumer Spending: A Comparative Study of the Crowding Out Effect
10.
MS
Dynamic Asset Pricing and Intertemporal Risk Return Tradeoffs: Testing Intertemporal CAPM in Pakistani Equity Markets
11.
MS
Do Investors Herd During Financial Crisis
12.
MS
The Relationship among Economic Activity, Stock Prices and Oil Prices: Evidence from G13 Countries