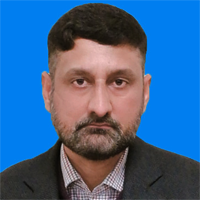 Mr. Saif Ullah
ASSISTANT PROFESSOR
PROFILE SUMMARY
Engr, Saif Ullah completed the MS in Mechatronics Engineering from University of Southern Denmark on Danish Government Scholarship and Industrial Grant from Danfoss, Denmark and BS in Mechanical Engineering from IUT, Dhaka on OIC Scholarship. Currently he is pursuing PhD in Mechanical Engineering from CUST, Islamabad, Pakistan. His research interests are in the areas of Air-Conditioning and Refrigeration, Renewable Energy, and Composites Materials. Engr. Saif Ullah is a fellow of Institution of Engineers Bangladesh (IEB) and registered as a Professional Engineer with PEC, Pakistan. He is member and Student Branch Advisor of ASHRAE, USA.
QUALIFICATION
PhD (in progress)
Mechanical Engineering
Capital University of Science and Technology, Islamabad
2015
MSc
Mechatronics Engineering
University of Southern Denmark
2004
BSc (Honours)
Mechanical Engineering
Islamic University of Technology, Dhaka
1997
TEACHING EXPERIENCE
Assistant Professor
Riphah International University, Islamabad, Pakistan
2010 – 2011
Industrial Experience
Quality Testing Engineer
SKM Air-Conditioning L.L.C., Sharjah, U.A.E
2004 – 2007
Research Assistant
Mads Clausen Institute for Product Innovation, Denmark.
2001 – 2004
Research Assistant
King Fahd University of Petroleum & Minerals, Dhahran, Saudi Arabia
MEMBERSHIP OF PROFESSIONAL BODIES
Member/ Student Section Advisor
American Society of Mechanical Engineers
Member
ASHRAE
Fellow
Institution of Engineers Bangladesh
Professional Engineer
Pakistan Engineering Council
Member
Productivity Association Pakistan
Member
International Quality Federation
Member
Quality and Productivity Society of Pakistan
Life Member
Pakistan HVACR Society
Member
Society of Mechanical Engineers Pakistan
HONORS & AWARDS
1.
Recommendation for Ph.D. Scholarship by Danish Professors Committee.
2.
Danish Govt. Scholarship for M.Sc. in Mechatronics Engineering.
3.
Research Assistantship at King Fahd University of Petroleum & Minerals, Dhahran, KSA.
4.
OIC Scholarship for B. Sc. In Mechanical Engineering.
RESEARCH AREAS / INTERESTS
Composite materials
Air conditioning and refrigeration
Renewable energy
Automation and control
CONFERENCE PUBLICATIONS
1.
Megnis, M.; Brøndsted, P.; Rehman, S. A.; Ahmad, T., Characterization of internal state variable for fiber fracture in UD composite. In: Advances in computational and experimental engineering and sciences. Proceedings 2004 International conference, Madeira (PT), 26-29 Jul 2004. (Tech Science Press, Encino, CA, 2004) p. 451-456.
2.
Megnis, M.; Brøndsted, P. Rehman, S. A.; Ahmad, T., Life predictions of long fiber composites in extreme environmental conditions using damage evolution approach. In: Proceedings European conference on composite materials (ECCM-11), Rhodes (GR), 31 May – 3 Jun 2004. (European Society for Composite Materials, London, 2004) 10 p