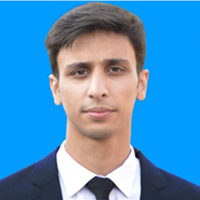 Mr. Asif Safdar (Pharm.D RIU, Islamabad)
Junior Lecturer
PROFILE SUMMARY
Dr. Asif has completed the Pharm.D. Degree from Riphah International University, Islamabad, Pakistan, in 2018. He worked at different positions including intern Jr. Lecturer and Intern Hospital Pharmacist. Dr. Asif has broad research interests in the areas of Pharmacology and Clinical Pharmacy. During his studies, he remained President of Riphah Social and Cultural Society, which shows his dedication to work and leadership qualities. He has showed a good academic record and availed Dean's merit scholarship during his studies. He has participated in different research and extra-curricular activities. He is interested in pursuing a career in academics, seeking a challenging position to utilize his skills and abilities in the field of Education that offers a professional growth while being resourceful and innovative.
QUALIFICATION
Pharm.D
–
Riphah International University, Islamabad
2018
TEACHING EXPERIENCE
Junior Lecturer
Capital University of Science and Technology (CUST), Islamabad
Since – October 2018
Intern Junior Lecturer
Riphah International University, Islamabad
August 2018 – November 2018
PROFESSIONAL EXPERIENCE
Intern Hospital Pharmacist
Combined Military Hospital, Rawalpindi
July 2016 – August 2016
MEMBERSHIP OF PROFESSIONAL BODIES
Member
Punjab Pharmacy Council, Lahore, Pakistan
HONORS & AWARDS
1.
Availed Dean's List scholarship in 4 out of 10 semesters.
2.
Certified acknowledgment for participating in FIRST Pharmaceutical Marketing Expo on April 17, 2018, At Riphah Institute of Pharmaceutical Sciences
3.
Shield Awarded for recognition of services as Student President of RIPS Social and Cultural Society.
RESEARCH AREAS / INTERESTS
Cancer research
Drug delivery
Dosage form designing
Clinical research
Drug prescribing and regimen designing.
BOOK CHAPTERS AUTHORED
S. Bashir, A. Safdar. Coriander Seeds: Ethno-medicinal, Phytochemical and Pharmacological Profile. In Science of Spices and Culinary Herbs – Latest Laboratory, Preclinical and Clinical Studies, Atta-ur-Rahman, M. I. Chaudhary and S. Yousuf (eds), Bentham-Science Publishers, Pte. Ltd. Singapore, 2020. pp. 39-64.