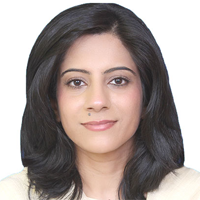 Ms. Nitasha Gohar
Lecturer
PROFILE SUMMARY
Ms. Gohar completed her M.Phil in Biochemistry from Quaid i Azam University, Islamabad with distinction in 2012. She worked in capacity of teaching assistant, Research associate and laboratory demonstrator in Quaid-i-Azam University Islamabad and Gomal University, D.I.Khan. With interest in Drug discovery, Pharmaceutical Sciences, Novel Drug Delivery systems, safety and efficacy studies, Ms. Gohar held consultant position in World Health Organization (WHO) for vaccine testing and safety surveillance. She also contributed in the patient safety through her series of lectures from the same forum. Apart from teaching, her expertise comprises of project management, regulatory guideline development and implementation, and process development. She is very focused on high quality work, including scientific research & development & teaching with excellent communication skills in English and Urdu.
QUALIFICATION
B.Ed
Science
AIOU Islamabad
2015
M.Phil.
Biochemistry
Quaid-i-Azam University, Islamabad, Pakistan
2012
Pharm.D.
Pharmaceutical Sciences
Gomal University, D.I.Khan, Pakistan
2008
TEACHING EXPERIENCE
Senior Lecturer
Faculty of Pharmacy, CUST
Since June 2021
Teaching Assistant and Research Associate
Quaid-i-Azam University, Islamabad, Pakistan
Dec 2010- Sep 2012
Teaching Assistant and Lab Demonstrator
Gomal University, D.I.Khan, Pakistan
Dec 2003 – Mar 2008
PROFESSIONAL EXPERIENCE
Technical Consultant
World Health Organization (WHO)
May 2016 – June 2021
Regulatory Affairs Manager
Munawar-pharma (Pvt) Ltd., Lahore, Pakistan
March 2015 – February 2021
Quality Assurance & Regulatory Affairs Officer
Danas Pharmaceuticals (Pvt.) Ltd, Pakistan
May 2009 – Sep 2010
Clinical/ Hospital Pharmacist
Pakistan Institute of Medical Sciences
Apr 2008 – May 2008
MANAGEMENT EXPERIENCE
Patron
Pharma Spark Society
Since November 2021
Student Editor
Danish University Magazine, Gomal University
2007 – 2008
HONORS & AWARDS
1.
Presidential and Chancellor's gold medals in M-phil Biochemistry
2.
All Pakistan winner in various declamation contests
3.
Provincial winner in Bilingual (Urdu/English) Essay Writing Competitions
MEMBERSHIP OF PROFESSIONAL BODIES
Member
KP Pharmacy Council, Peshawar, KPK
RESEARCH AREAS / INTERESTS
Drug discovery ;
Novel Drug Delivery Systems;
Polymeric/Hydrogel Drug Delivery Systems and Development of Nano-Complexes.
JOURNAL PUBLICATIONS
1.
M. Aslam, K. Barkat, N. S. Malik, M. S. Alqahtani, I. Anjum, I. Khalid, U. R. Tulain, N. Gohar, H. Zafar, A. C. Paiva-Santos, F. Raza, "pH Sensitive Pluronic Acid/Agarose-Hydrogels as Controlled Drug Delivery Carriers: Design, Characterization and Toxicity Evaluation." Pharmaceutics, vol. 14, no.6, pp.1218, 2022.
2.
Sumaira, U. R Tulain, A. Erum, M. A. Hussain, Sidra, N. S. Malik, A. Rashid, R. Kausar, N. Gohar, N. Shahid, M. Siddiqui, "Fabrication, Characterization and Toxicity Evaluation of Chemically Cross-linked Polymeric Network for Sustained Delivery of Metoprolol Tartrate", Designed Monomers and Polymers, vol. 24, no. 1, pp. 351-361, 2021.
3.
S. Bashir, N. Gohar, "Pharmacotherapeutic Considerations in the Management of Hypertensive and diabetic COVID-19 Patients." Global Journal of Medical Therapeutics, vol.3, no. 4, pp. 4-6, 2021.