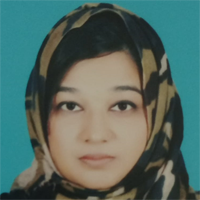 Dr. Sania Riaz
Assistant Professor
PROFILE SUMMARY
Dr. Sania Riaz completed her PhD degree in Molecular Biology from Centre of Excellence in Molecular Biology (CEMB), University of Punjab, Lahore. Her research interests include working on diseased animal models, their molecular determinants, Therapeutics & Bioavailability of phytochemicals, drug development and expression profiling studies through cDNA and oligonucleotide microarray.
QUALIFICATION
PhD
Molecular Biology
CEMB, University of Punjab
2017
MPhil
Food Science & technology
Pir Mehr Ali Shah Arid Agriculture
2004
B.Sc (Hons.)
Food Science & technology
Pir Mehr Ali Shah Arid Agriculture University
2002
TEACHING EXPERIENCE
Assistant Professor
Capital University of Science and Technology (CUST), Islamabad
Since- 2021
Assistant Professor
Institute of Molecular Biology & Biotechnology, University of Lahore
2020 – 2021
Assistant Professor
Allied Health Sciences, University of Lahore
2017 – 2019
INDUSTRIAL EXPERIENCE
Master Trainer
F&VDP, Government of Punjab
2006 – 2008
Hygeine & Nutrient Specialist
Nestle, Kabirwala
2005
MEMBERSHIP OF PROFESSIONAL BODIES
Member
Middle East Molecular Biology Society (MEMBS)
HONORS & AWARDS
1.
Academic collaborator in NRPU titled "Isolation and Identification of therapeutic agents involved in the activation of PPAR-Y to ameliorate Type 2 Diabetes".
2.
Development of COVID testing kit against NRS genes at University of Lahore.
3.
Training in Food Biotechnology & Safety from China via TWAS Fellowship program .
4.
HEC indigenous PhD scholarship holder
5.
Merit scholar ship holder in PMASAAU
JOURNAL PUBLICATIONS
1.
Sania Riaz, Maria Zahid, Rizwan ur Rehman, Beenish Aftab, Muhammad Imran and Sana Ijlal Khan (2022). Effect of phytoestrogens in the treatment of polycystic ovary syndrome in Rat model. Journal of Food and Nutrition Research, 2022, Vol. 10, No. 7, 518-525 DOI:10.12691/jfnr-10-7-11.
2.
Hao Wang, Zhenou Sun, Rizwan ur-Rehman, Sania Riaz, Ting-Ting Shen, Zhen- Chuan Fan, Dong Liu. (2019). Apple Phlorizin Reduce Plasma Cholesterol by Down-regulating Hepatic HMG-CoA Reductase and Enhancing the Excretion of Fecal Sterols. Journal of Functional Foods. 62: https://doi.org/10.1016/j.jff.2019.103548.
3.
Hao Wang, Zhenou Sun, Rizwan-urRehman, Ting Tingshen, Sania Riaz, Xiang Li, ErBing Hua, Jiang Zhao (2018). Apple phlorizin supplementation attenuates oxidative-stress in hamsters fed a high-fat diet. Journal of Food Biochemistry, 42: 1-10.
4.
Muhammad Bilal SARWAR,Sajjad SADIQUE, Sameera HASSAN, Sania Riaz, Bushra RASHID, BahaeldeenBabiker MOHAMED, Tayyab HUSNAIN (2017). Physio-Biochemical and Molecular Responses in Transgenic Cotton under Drought Stress. TARIM BİLİMLERİ DERGİSİ; Journal of Agricultural Sciences, 23(2) 157-166.
5.
Sania Riaz, Beenish Aftab, Muhammad Bilal Sarwar, Fatima Batool, Fozia Iqbal, Zarnab Ahmad, Bushra Rashid, Tayyab Husnain (2016). Adaptations of Plant Responses in Agave sisalana under Drought Stress Conditions. J. Bio. Env. Sci. 9(4), 114-123.
6.
Beenish AFTAB*, Muhammad Naveed SHAHID, Sania Riaz, Adil JAMAL, BahaeldeenBabiker MOHAMED, Muzna ZAHUR, Mahwish AFTAB, Bushra RASHID, Tayyab HUSNAIN (2014). Identification and expression profiling of CLCuV-responsive transcripts in upland cotton (Gossypiumhirsutum L.) Turkish Journal of Biology. 38: 226-237.