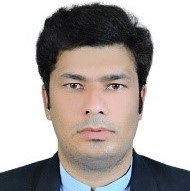 Dr Muhammad Furqan
Assistant Professor
PROFILE SUMMARY
Dr. Muhammad Furqan specializes in the Internet of Things, Information-centric networks (CCN), Coding Techniques, Optimization of future cellular networks, IoT-based vehicles, UAVs and Meta surface materials
and sometimes operation of Future Internet and mobility management for next-generation computer networks and is deeply involved in the research and policies surrounding the Internet. He completed his PhD in Information and Communication Engineering, at Southeast University, Nanjing, China.
During his PhD at Southeast University, he was involved in many projects which are the National Key Research and Development Program of China under Grant 2018YFB1800801, the National Natural Science Foundation of China under Grants 61720106003, and 61531011. In these projects, he worked as a Researcher and successfully completed the projects in the allocated time.
He had already experience in the public sector and spent one year in Pakistan Computer Bureau, Islamabad under the NIP program.
He worked at the Women University of Swabi in the Department of Computer Science as an assistant professor and had the additional duty of In-Chrage IT of the IT Section, Women University of Swabi.
Currently, he is working as an assistant professor at, the Department of Software Engineering, Capital University of Science and Technology, Islamabad.
He published many articles in well-reputed Journals and is currently a reviewer of IEEE ACCESS and Hindawi journals.
QUALIFICATION
PhD
Philosophy in Information and Communication Engineering
TEACHING EXPERIENCE
Assistant Professor
Capital University of Science and Technology, 3 years
Assistant Professor
Women University Swabi
2022 – 2023
Lecturer
Women University Swabi
2016-2019
Research Associate
Purple Mountain Network Communication and Security, China
2017 – 2018
MANAGEMENT EXPERIENCE
3 years
MEMBERSHIP OF PROFESSIONAL BODIES
Purple mountains research lab, Nanjing, China.
HONORS & AWARDS
1.
Winer of Chinese Government Scholarship
RESEARCH AREAS / INTERESTS
1.IoT
2. AI
3. Networks
4. Cellular Networks
5. Meta Surface Materials
6. Coding Techniques
7. Web Engineering