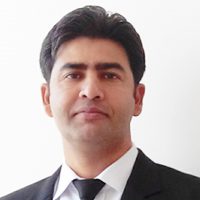 Mr. Hafiz Muhammad Adnan
LECTURER
PROFILE SUMMARY
Motivated, energetic and enthusiastic professional with diverse experience of almost 10 years teaching experience & 8 years of practicing lawyer. I start working as a practicing lawyer in 2006 and enroll as an advocate of high courts in 2010. In 2008 start part time teaching to chartered accountancy students and others. Since 2015 to date, I am working as lecturer in Capital University of Science and Technology, Islamabad.
QUALIFICATION
MS
HRM
Muhammad Ali Jinnah University, Islamabd
2015
MBA
HRM
Virtual University, Islamabad
2009
L.L.B
Sharia and Law
International Islamic University, Islamabad
2006
MBA
HRM
Virtual University of Pakistan.
–
TEACHING EXPERIENCE
Lecturer
Capital University of Science and Technology
Since – 2015
Lecturer (Visiting)
University of Central Punjab, Rawalpindi Campus.
2017 – 2018
Lecturer (Visiting)
Comsats University Islamabad.
2014 – 2018
Lecturer
Pakistan Institute of Finance and Public Accountants (PIPFA)
2010 – 2016
Lecturer
SKANS School of Accountancy (C.A, ACCA)
2010 – 2015

MANAGEMENT EXPERIENCE
Member
Curriculum Review Committee, Mgt Sci, CUST, Islamabad
Since – 2021
Member
Health and Safety Committee, Mgt Sci, CUST, Islamabad
Since – 2017
INDUSTRIAL EXPERIENCE
Advocate of High Court & Federal Shariat Court
Islamabad Bar Council
2006 – 2013
Legal Advisor
TEP -TEX International Switzerland.
2009 – 2012
MEMBERSHIP OF PROFESSIONAL BODIES
Member
Islamabad Bar Association
Life Member
Islamabad High Court Bar Association, H.C.R No.45208
RESEARCH AREAS / INTERESTS
1. Employee Creativity and Innovative work behavior;
2. Personality;
3. Industrial Psychology and Organization culture;
4. Corporate governance.
5. Employment legal issues and Business laws drafting in Pakistan;
RESEARCH SUPERVISION
1.
MS
Impact of Job Crafting on Career Satisfaction with mediating role of Work Engagement and moderating role of Conscientiousness.
2.
MS
Impact of Inclusive Leadership on Project Success mediating role of team trust moderating role of organization culture.
3.
MS
Impact of Work Family Conflict on project success mediating role of burn out moderating role of emotional intelligence.
4.
MS
Impact of Project Governance on Project Success with mediating role of Project Monitoring and Moderating role of Project Leadership.
5.
MS
Impact of Inclusive leadership on Project Success, testing of a model in Projects
6.
MS
Impact of Transformational Leadership on Project Success with the Mediating Role of Participative Decision Structure and Moderating Role of Team Competence.