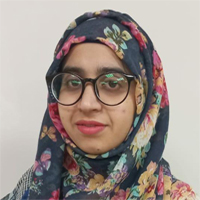 Ms. Irum Noureen
Lecturer
QUALIFICATION
MPhil
Psychology
Quaid-i-Azam University, Islamabad
2019
MSc
Psychology
Quaid-i-Azam University, Islamabad
2016
BSc
Psychology
Punjab University, Lahore
2014
TEACHING EXPERIENCE
Lecturer
Capital University of Science and Technology (CUST), Islamabad
Since – 2021
Visiting Lecturer
Capital University of Science and Technology (CUST), Islamabad
2021
Visiting Lecturer
COMSTAS University Islamabad
2020 – 2021
Teaching
Allied School Harmain Campus.
2016 – 2017
INDUSTRIAL EXPERIENCE
Clinical Psychologist
Institute of Psychiatry, WHO Collaborating Center for Mental Health Research & Training Rawalpindi Medical University.
2017 – 2018
Internship
Rozan NGO
2015
JOURNAL PUBLICATIONS
1.
Mehmood, A., Hanif, R., & Noureen, I. (2020). Influence of Trait-Patience in Goal Pursuit and Subjective Well-Being among University Students. Pakistan Journal of Psychological Research, 707-723.
CONFERENCE PUBLICATIONS
1.
Noureen.I, Hanif.R (2019).Positive Youth Development and Goal Orientations among Students in International conference on Recent Trends & Intervention in Clinical Psychology, Institute of Clinical Psychology, Lahore (20th -22nd March,2019).