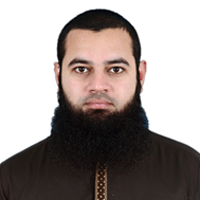 Mr. Muhammad Haroon
Lecturer
QUALIFICATION
MS
Mechanical Engineering
International Islamic University Islamabad
2019
MS
Mechanical Engineering
International Islamic University Islamabad
2014
TEACHING EXPERIENCE
Lecturer
Capital University of Science and Technology (CUST), Islamabad
Since – 2021
Instructor
Iqra College of Technology, Islamic International University, Islamabad.
2017 – 2021
MEMBERSHIP OF PROFESSIONAL BODIES
Member
The Institution of Engineers, Pakistan (M-20975/ISL-3102)
Member
National Fire Protection Association of Pakistan (M-7102-1017)
Registered Engineer
Pakistan Engineering Council, (MECH/28400)
RESEARCH AREAS / INTERESTS
Demand for distributed and efficient generation has led to various studies on microgenerators using waste and/or renewable energy resources. Sustainable development requires energy conversion systems that are both economically and environmentally sustainable. My research work is focused on 4E (Energy, Exergy, Economic and Environment) analysis of bottoming power cycles operating with Supercritical CO2 based binary mixtures. This research is selected; because Supercritical CO2 bottoming power cycles are used worldwide for the waste heat applications.
JOURNAL PUBLICATIONS
1.
M. Haroon et al., "Exergetic performance and comparative assessment of bottoming power cycles operating with carbon dioxide–based binary mixture as working fluid," Int. J. Energy Res., vol. 44, no. 10, pp. 7957–7973, Aug. 2020. (Q1 journal, IF = 5.164).
2.
M. Haroon et al., "Exergetic, Economic and Exergo-Environmental Analysis of Bottoming Power Cycles Operating with CO2-Based Binary Mixture," Energies, vol. 13, no. 19, p. 5080, 2020. (IF=3.004).