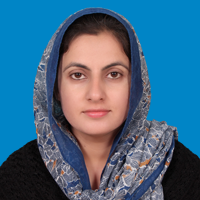 PROFILE SUMMARY
Ms. Iqra Hamid completed M.Phil Pharmaceutical Chemistry from Riphah International University Islamabad in 2019.Her research interests are synthetic chemistry and computer Aided drug designing. She has teaching and professional experience in different institutes. She is focused, highly-motivated and deadline-committed enthusiastic individual with strong interpersonal skills.
QUALIFICATION
MPhil
Pharmaceutical Chemistry
Riphah International University, Islamabad
2019
Pharm.D.
Pharmaceutical Sciences
University Of Lahore, Islamabad, Pakistan
2014
TEACHING EXPERIENCE
Lecturer
Faculty of Pharmacy, Capital University of Science and Technology, Islamabad
November 01, 2019 – Present
Junior Lecturer
Department of Pharmacy, Capital University of Science and Technology (CUST), Islamabad
November 01, 2018 – September 2019
Junior Lecturer
Abasyn University Islamabad
May 2017 – October 2018

PROFESSIONAL EXPERIENCE
Medical Coder
Medical Transcription and Billing Company (MTBC), Islamabad Pakistan
October 2014- October 2016
Pharmacist
Medvax Distribution
February 2014 – October 2014
Pharmacist
Medizan Pharmaceutical
1 Month

HONORS & AWARDS
1.
Scholarship holder in M.Phil. 1st and 2nd semester.
2.
2nd position in M.Phil. Course work.
3.
Scholarship holder in Pharm.D.

MEMBERSHIP OF PROFESSIONAL BODIES
Member
Punjab Pharmacy Council, Lahore, Pakistan

RESEARCH AREAS / INTERESTS

Computational Studies
Synthesis of pharmaceutically important compounds
pharmaceutical Sciences
Novel Drug Delivery Systems
JOURNAL PUBLICATIONS
1.
S. Bashir, I. Hamid, "Pharmacy students' perception of learning and engagement in a flipped-classroom of a physiology course" Innovations in Education and Teaching International, Vol.57, no.6, 2021.
2.
Abbas, M., Jabeen, S., Idrees, A., Safdar, M.S., Safdar, A., Siddiqui, M., I. Hamid. and Sherazi, M.R.. "Health-Related Quality of Life Among Senior Citizens in Territory of Islamabad Pakistan-A Community Based Cross-Sectional Study". Ageing International, pp.1-12, 2021
3.
I. Hamid, H.Nadeem,S.Ansari,  S.Khiljee, I.Abbasi, A.Bukhari,M.M.Arif,  M.Imran,  Synthesis of 2-substituted benzoxazoles as potent anti-inflammatory scaffold: synthesis, molecular docking and in vivo anti-ulcerogenic studies "Medicinal Chemistry,Vol.18,no.7.2022.
4.
A.Bukhari , H.Nadeem , S. Sarwar , I. Abbasi , M.T.Khan, I.Hamid. Therapeutic Potential of 1,3,4-Oxadiazole Nucleus as Anticancer Agents: A Mini-Review, Medicinal Chemistry, 2022.