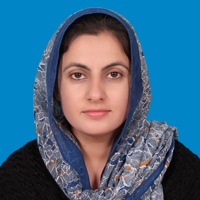 Ms. Iqra Hamid (MPhil RIU, Islamabad)
Lecturer
PROFILE SUMMARY
I am a focused and enthusiastic individual with strong interpersonal skills. A self-starter and a quick learner. I have skill and knowledge, essential for managing key areas of an organization. I enjoy working in a busy environment. My area of interest is Synthesis and Characterization of Novel organic compounds and making their pharmacokinetic models and Docking Studies.
QUALIFICATION
MPhil
Pharmaceutical Chemistry
Riphah International University, Islamabad
2019
Pharm.D
Pharmaceutical Sciences
University Of Lahore, Islamabad
2014
TEACHING EXPERIENCE
Lecturer
Capital University of Science and Technology (CUST), Islamabad
Since – January 2020
Junior Lecturer
Capital University of Science and Technology (CUST), Islamabad
November 2018 – December 2019
Lab Demonstrator
Abasyn University Islamabad
May 2017 – October 2018

PROFESSIONAL EXPERIENCE
Medical Coder
Medical Transcription and Billing Company
October 2014 – October 2016
Pharmacist
Medvax Distribution
February 2014 – October 2014
Pharmacist
Medizan Pharmaceutical
–

MEMBERSHIP OF PROFESSIONAL BODIES
Member
Punjab Pharmacy Council, Lahore, Pakistan

HONORS & AWARDS
1.
Scholarship holder in M.Phil. 1st and 2nd semester.
2.
2nd position in M.Phil. Course work.
3.
Scholarship holder in Pharm.D.

RESEARCH AREAS / INTERESTS

Drug discovery;
Pharmaceutical Sciences and novel drug delivery systems.
JOURNAL PUBLICATIONS
1.
S. Bashir, I. Hamid. "Pharmacy students' perception of learning and engagement in a flipped-classroom of a physiology course", Innovations in Education and Teaching International. https://doi.org/10.1080/14703297.2020.1871395 pp. 1-9, 2021.