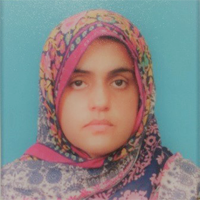 Ms. Sarah Nawaz Malik
Lecturer
PROFILE SUMMARY
Ms. Sarah Nawaz Malik possesses a diverse academic background having degrees in both Humanities and Management Sciences domain. Currently, she is pursuing her PhD in the field of Management. Her areas of interest include Organizational Behaviour, Industrial Psychology and Business Communication. She also supervises research thesis/projects and teaches courses in Communication skills, Business Communication, English I and English II.
QUALIFICATION
PhD Scholar
Management
University San Malaysia, Sarawak campus, Malaysia.
2019
MPhil
Management Sciences (HRM)
Bahria University, Islamabad.
2015
MBA
Human Resource Management
NUST Business School, NUST, Islamabad.
2013
Masters of Arts
English (Linguistics & Literature)
National University of Modern Languages, Islamabad.
2004
Bachelors of Arts
Economics, Statistics, English.
University of Peshawar, Peshawar.
2002
TEACHING EXPERIENCE
Lecturer
Capital University of Science and Technology (CUST), Islamabad
Since – 2018
Lecturer
Army Public College of Management & Sciences, Rawalpindi Cantonment.
2015 – 2018
Lecturer
University of London (Undergraduate programs)
2014 – 2015

RESEARCH AREAS / INTERESTS

Business Communication;
Organizational Behavior;
Work Life Balance;
Virtual Intelligence.
RESEARCH SUPERVISION
1.
MS
Impact of Total Quality Management on Organizational Performance with Mediating Role of Organizational Culture and Moderating Role of Project Complexity.
2.
MS
The Role of Shared Leadership on Team Effectiveness in Project Teams, with Mediating Role of Trust and Moderated by Project Team Commitment.
3.
MS
The Role of Emotional Intelligence in Agile Team Composition as Mediator in Software Project Success with Transformational Leadership as Moderator.
4.
MS
The Impact of LMX Quality on Project Success: The Mediating Role of Subordinates' Trust and Moderating Role of Power Distance.
5.
MS
Impact of Gossip at Workplace on Workplace Incivility; Mediating Role of Interpersonal Conflict and Moderating Role of Personality
6.
MS
Impact of Despotic Leadership on Work family conflict by considering Emotional Exhaustion as a Mediator and Neuroticism as a Moderator.
7.
MS
The impact of Cyber-loafing on Employee Task Performance with the examination of Theory of Planned Behavior; The mediating role of Self-control and moderating role of Organizational Culture.
8.
MS
Impact of Agile Response to Change on Project Performance with the Mediating Role of Project Complexity Moderating Role of Team Creativity.