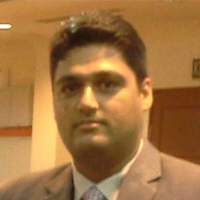 Dr. Ahsan Mahmood Ahmed
ASSISTANT PROFESSOR
PROFILE SUMMARY
Enthusiastic, energetic and motivated professional with track record of almost 6.5 years teaching experience & 4 years of overseas experience in the areas of Human Resources and Administration as well as Customer Services. Proven ability in providing personnel and administrative support, organizing responsibilities and handling HR roles. Displayed skills in performing well under pressure, meeting organizational objectives and dealing with multicultural clientele. Quick learner and adaptive by nature with good communication, planning, coordination, time management, and leadership skills with presentable personality and professional business style. Also expert in MS Office applications. Now working as a Permanent Lecturer at M.A.J.U to apply practical knowledge and exposure at the same time endeavour for professional excellence.
QUALIFICATION
PhD
Marketing
University San Malaysia, Sarawak campus, Malaysia
2018
Master
Human Resource Development
Middlesex University Business School, London, UK
2009
BA, Hons
Marketing
Middlesex University, London, UK
2005
TEACHING EXPERIENCE
Assistant Professor
Capital University of Science & Technology, Islamabad
Since – 2018
Visiting Faculty Member
Quaid-i-Azam University, (Q.A.U) Islamabad
Since – 2015
Al Shifa University
Quaid-i-Azam University, (Q.A.U) Islamabad
Since – 2017
HONORS & AWARDS
1.
Produced sponsorship from large multinational organisations for the Spring Festival at Mohammad Ali Jinnah University while serving as President of the Marketing Association.
2.
Constantly recognised by customers for providing quality service.
3.
Gained promotion as Support Manager at Pizza Hut within 3 months for high standard of performance, integrity and strong business ethics.
4.
Displayed ability in handling problems as opportunities, contacting with management and customers of diverse nationalities.
5.
Performed assigned workload with indefinable enthusiasm, commitment, honesty and dedication and drove towards contributing to continued business growth.
RESEARCH SUPERVISION
1.
MS
Attitude Formation Barriers towards Digital Advertising Resistance, with the Moderating Effect of Traditional Advertising
2.
MS
Factors Leading to Panic Buying Behavior amidst COVID 19, with the Moderating effect of Media
3.
MS
Dimensions of Team Work Leading to Project Completion in Extreme Conditions, with the moderating role of Government Intervention
JOURNAL PUBLICATIONS
1.
An Intergenerational Value Change Theory-Based Study to explore Taxicab Application Usage. (Technological Forecasting and Social Change, Impact Factor 5.89) [Under Review]
2.
Exploration of prosocial behavior in times of COVID-19. An extension of empathy – altruism theory.
(Personality and Social Psychology Bulletin, Impact Factor 2.97) [Under Review]
3.
Shahid Rasool, Asif Kiyani, Ahsan Ahmed , "Impact of Materialism on Compulsive Consuption", African Journal of Business Management, Pages: 49, 2012
4.
Ansar A Rajput, Saima Saleem, Asif Ayub Kiyani, Ahsan Ahmed , "The Impact of Resources on Entrepreneurial Success", International Journal of Research in Commerce and Management, No: 9, 2011
INDUSTRIAL RESEARCH
1.
Making CPEC Inclusive for Unskilled Labor force in Pakistan, Project Amount: Rs 3 Lakh.
01/01/18-15/06/18
2.
An Exploratory Inquiry Towards Improving Customer Service in Capital University of Science and Technology, Project Amount: Rs 1 Lakh.
01/09/17-10/12/17
3.
Green Hospital Sustainable Waste Management Framework, In Progress.
07/10/19 onwards
4.
Plastic Recycling National Framework In Progress.
07/10/19 onwards
5.
Development and Implementation of Eco-Tourism Business Model, In Progress.
07/02/2020 onwards