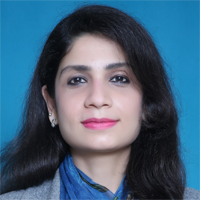 Ms. Javeria Khalid
Lecturer
PROFILE SUMMARY
Ms. Javeria Khalid has 10 years of working experience in different organizations like USAID, Deloitte, SZABIST and NUMS. She has done double Masters Gold Medalist in M.phill Management Sciences; She is a 'Certified Lead Auditor of ISO 9001:2015 (QMS). She has extensive experience in managing training, administrative work and human resource affairs gained over relatively a short span of time through commitment under thoughtful supervisors. She has a proven record of accomplishment in administration; human resource; quality control; and auditing of quality management systems. She is very well conversant with management procedures and affairs combined with an energetic personality; and good interpersonal & human skills, she also possesses experience in teaching undergraduate/Master's programs as a visiting faculty in different institutions in Islamabad.
QUALIFICATION
Professional Certificate
CQI- IRCA Lead Auditor-QMS 9001:2015
Bureau Veritas
2021
MPhil
Human Resource Management
Riphah International University, Islamabad
2019
Professional Certificate
Project Management Professional
NUST Business School
2014
Certification
ITIL Foundation
Moving Minds, Islamabad
2014
M.Sc.
Mass Communication, Media Studies
Allama Iqbal Open University, Islamabad
2013
MBA
Finance
International Islamic University, Islamabad
2010
QUALIFICATION
Lecturer
Capital University of Science and Technology (CUST), Islamabad
Since 2021
Visiting Lecturer
Sarhad University of Information Technology, AEC Comwave Institute of Information Technology
2019 – 2021
INDUSTRIAL EXPERIENCE
Asst. Manager- Quality Enhancement Cell (QEC)
National University of Medical Sciences, Rawalpindi
2019 – 2021
Quality Enhancement Cell (QEC)
Shaheed Zulfikar Ali Bhutto Institute of Science and Technology (SZABIST), Islamabad
2017 – 2020
Research & Development Coordinator
USAID CITIZEN VOICE PROJECT- Trust for Democratic Education and Accountability (TDEA)
2015 – 2016
Assoc. Production Department
Cine Plus Media
2014 – 2015
Assoc. Production Department
Cine Plus Media
2014 – 2015
Research Trade Analyst
Usaid Deloitte Consulting Overseas Project Llc.
2011 – 2014
MEMBERSHIP OF PROFESSIONAL BODIES
Member
NBEAC Committee
Member
Curriculum Review Committee
Member
CQI- IRCA
HONORS & AWARDS
1.
Gold Medalist in Mphil (Management Science), Riphah International University, Islamabad (2018-2019)
2.
Distinction awarded in MSc.
RESEARCH AREAS / INTEREST
Emotional Intelligence
Organizational Behavior
Organizational Culture
Industrial Psychology
Human Resource Management
CONFERENCE PUBLICATIONS
1.
21st International Research conference at SZABIST, Islamabad 2019 to present a research paper titled "Impact of Job Insecurity and Work overload on job stress with the moderating role of Islamic work ethics"
2.
9th International Business Research Conference 2021 Held at …CUST, Islamabad 2021to present research paper titled "Impact of Workplace Ostracism and Workplace Bullying under the moderation of Supervisor Support"
3.
Attended a "CENTRAL ASIAN BUSINESS OPPORTUNITIES CONFERENCE (CABOC) 2014" held in Islamabad