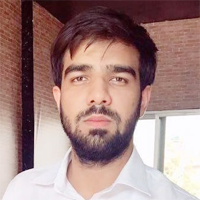 Mr. Minhas Shah
LAB ENGINEER
PROFILE SUMMARY
Detail-oriented registered civil engineer with working experience in public sector and a research background of highway material modification, using complex composite, for sustainability. Zeal to solve complex and analytical problems. Seeking to use acquired knowledge to bring excellence and sustainability in engineering projects and to enhance the safety, welfare and quality of life for all of society.
QUALIFICATION
BS
Civil Engineering
Capital University of Science and Technology, Islamabad.
2020
TEACHING EXPERIENCE
Lab Engineer
Capital University of Science and Technology, Islamabad
Since – 2021
INDUSTRIAL EXPERIENCE
Internship
National Highway Authority
2019
Internship
GB Public Works Department
2020 – 2021
HONORS & AWARDS
1.
Awarded dean's honor roll certificate six times for securing GPA more than 3.5
2.
Overall 3rd position in class
3.
Overall 5th position in batch
4.
Overall 2nd position in open house
CONFERENCE PUBLICATIONS
1.
Aziz, A and Shah, M, "A Review on the Usage of Modern Techniques to Overcome the Issues in Rapid Setting Concrete for Extreme Temperature Zones". pp. 147–151, CSCE'22, 2022
2.
Abrar, H and Shah, M, "An Overview of Sustainable Repair Strategies for Potholes in Flexible Pavements During Rehabilitation Phase". pp. 368–373, CSCE'22, 2022
3.
Shah, M., Farooqi, U., and Ali, M., "Use of Admixtures in Improving Bonded Asphalt Overlay on Concrete Pavements". pp. 261-267, ICEC 11, 2020
4.
Shah, M., Farooqi, U., Ali, M., (2020). Use of admixtures in improving bonded asphalt overlay on concrete pavements International Civil Engineering Conference 11 Pakistan.